Burying the dead is one of the Spiritual Acts of Mercy.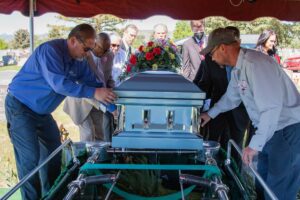 Funerals give us the opportunity to grieve and show others support during difficult times.  Through our prayers and actions during these times we show our respect for life, which is always a gift from God, and comfort to those who mourn.
Send a card to someone who has recently lost a loved one. Make your own card and use some of these prayers (click here).
Visit the cemetery and pray for those you have lost.
Spend time planning your own funeral mass, read through the Order of Christian Funerals and find our hope in the Resurrection. For a free funeral and cemetery planning guide, click here.
Source: https://www.usccb.org/beliefs-and-teachings/how-we-teach/new-evangelization/jubilee-of-mercy/the-spiritual-works-of-mercy