When making your funeral arrangements with funeral homes in Lakewood, CO., you are going to want to make the services personal and unique to them and their life. Many people carry this idea further by creating a headstone for their grave that is also very unique and customized to their loved one. If you would like to create a headstone that is one-of-a-kind for your loved one, there are many ways to do so. We are going to explore some of the most common design elements you can customize for your loved one's headstone.
Headstone Shape and Design
One of the most prominent features of the headstone is its shape. With modern cutting and carving techniques, headstones can be shaped into just about any shape and design imaginable. Whether the family prefers a more traditional and elegant design such as a square or rounded top shape, other families may opt for something more free-flowing and choose a wavy or curvy design. Some other options for shapes include:
Oval with checks
Oval with shoulders
Ogee top
Half-round
Peon with checks
Offset peon top
Choosing the Headstone Color
The color of the headstone is the next design element to consider as it will make the most impact after the shape. The color choices will most likely depend on what material you choose but colors can often be found including rose, green, gray, black, red, and more. You can also choose to have the headstone include more than one color.
Font Choices
Not only will what is written on the headstone convey information such as your loved one's name, date of birth, date of passing, etc., but will also affect the overall design aesthetic of the headstone.
The font you choose will play a part in the feel of the monument. For example, if you choose a curvy, cursive font, it appears to be more elegant and classy. While a very strong block font will give the appearance of being very rigid. Whichever font you choose, you want to make sure you do not sacrifice legibility for design. The font may look great, but if you can't read what the words say, then go with another choice.
Additional Elements
Adding additional elements can really make the headstone unique to your loved one and stand out. Some additional items you could add include: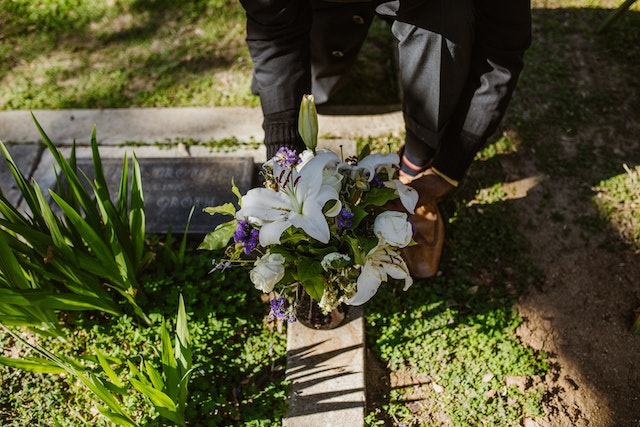 Portrait engraved directly on the stone
Sculptural elements such as a heart, cross, bird, angels, wings, etc.
A porcelain image being applied
A Bench added to the headstone
Vases included in the headstone design
Check With Your Cemetery
Before making any final decisions on the design of the headstone, always check with the cemetery first. This is because many cemeteries have rules on what is and what isn't allowed. They may have regulations on what type of material the headstone can be or even what symbols are allowed. If you need additional help, headstone providers as well as funeral directors from funeral homes in Lakewood, CO. can assist you.